Reading
Together We Make Learning to Read A Memorable, Unmissable Adventure
Learning to Read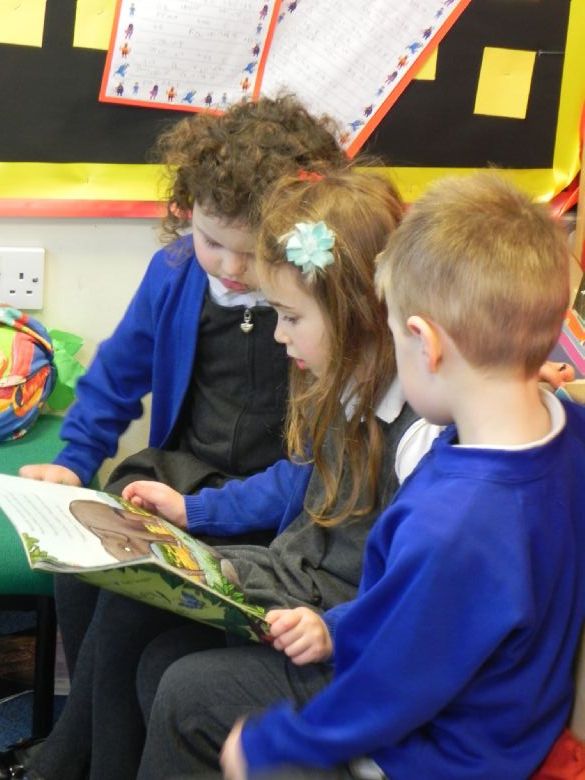 Learning to read is one of the most important educational steps for our children - reading underpins almost all aspects of the curriculum. So at Newton Burgoland Primary School we focus lots of energy, time and enthusiasm to help all our pupils become successful readers. We want children to love reading and to continue to do so throughout their lives.
Children who belong to families where books are valued, shared and talked about find it easier to learn to read and write. A variety of experiences and the vocabulary to talk about those experiences makes a huge difference to reading and understanding of reading. The journey to being a reader and a writer starts at birth when you first talk to your child.
'Reading and writing floats on a sea of talk" ( James Britton, 1983 )
We are members of Leicestershire's Creative Learning Services. This enables us to borrow up to 250 books, gives us 4 book talks a year, introducing pupils to new authors and unusual books providing project collections each term.
At the bottom of this page you will find some bookmarks for reading to download for each year group. These will help you to ask your child about the book they are reading. It is really important that learners are:
Enjoying their reading, developing a love of a particular author or genre
Visiting libraries
Reading challenging texts with resilience and determination
Finding our the meaning of any usual words
Collecting ideas for writing
Linking their reading to their lives and other books they may have read,
Empathising
Finding out and learning new facts
We use phonetically decodable books alongside other books to support pupils early reading development. Our phonics teaching is based on 'letters and sounds'. this year we have invested in some beautiful new phonic readers to support learners maintain an early interest in reading and to feel a sense of success quickly.
Early Years Foundation Stage and Key Stage One
We ask parents to take an active role in helping their child to become a fluent reader by sharing books daily; supporting the learning of key words and sharing the school book at least 3 times a week. Please complete the reading record book to tell us about your reading at home.
Children begin to learn to read in the first term of Reception through the teaching of letter sounds (phonics). We deliver our phonics teaching through a scheme called, 'Letters and Sounds '.
Children are regularly assessed to check their progress in learning sounds.
In addition, children are introduced to a bank of 'high frequency' words. These words need to be read by sight rater than sounding out. We often send these words home in book bags so you can help your child to practise. You can download the first 100 and the second 200 high frequency words below.
Some of our early books are very simple with just a few words, you can help by looking at the pictures and talking about the story. Making links between what is happening in the book and your child's own experiences is really helpful. Questions such as :
How would you feel if....?
Why do you think.....?
What do you think might happen next?
Do you think this person would be a good friend- why/ why not?
Is this story like anything else we have read?
Reading opportunities at school will be supported through: reading activities during phonics lessons; guided reading sessions (a small, teacher-led reading group); and individual reading to a teacher or parent helper. Children are encouraged to chose to read, to read independently and to talk about their book choices.
learners will bring home a phonetically decodable book (independent read), a guided reading book and a banded reading book each week.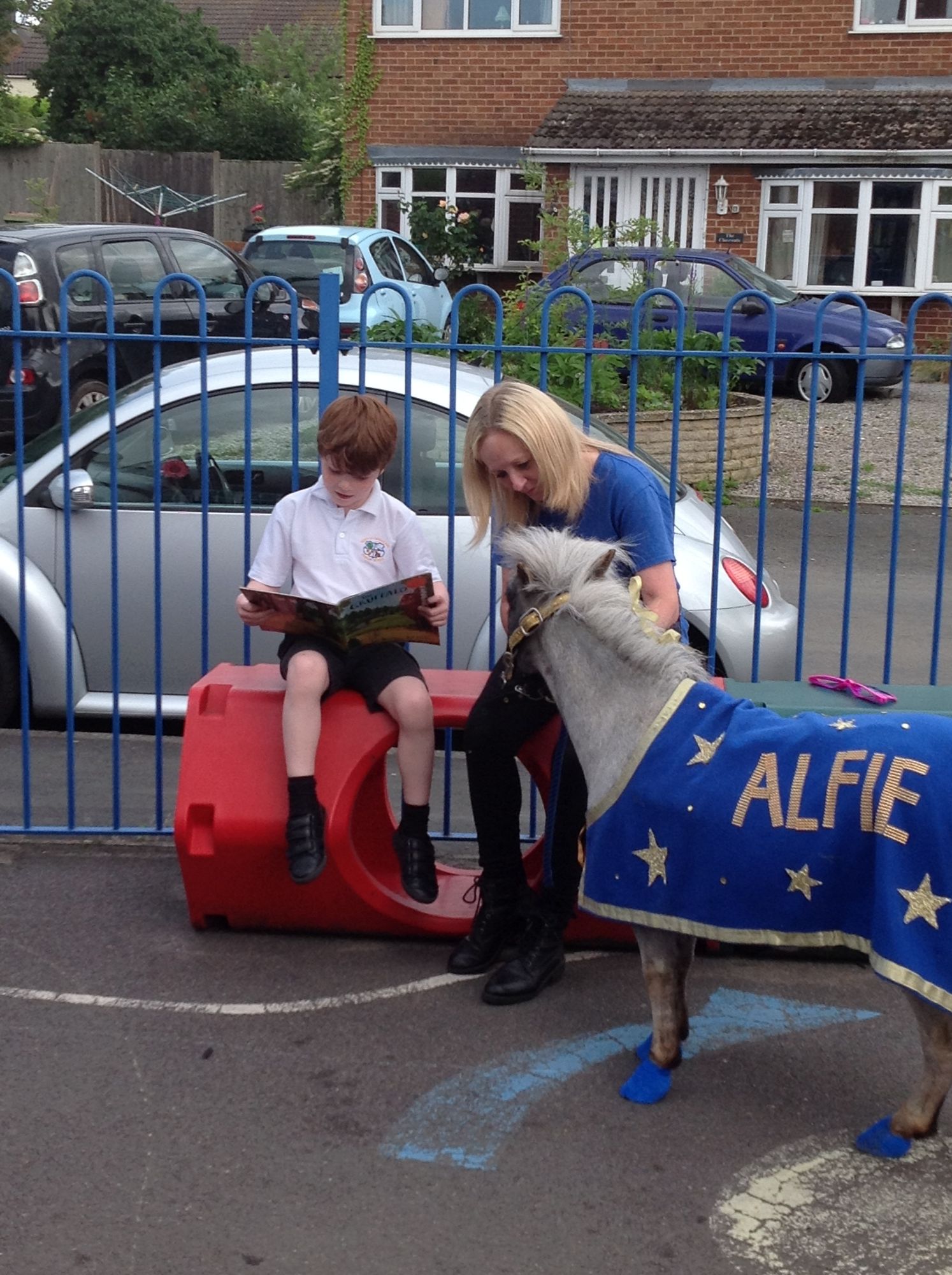 Sharing our favourite books with the Alfie the reading pony.
Key stage 2
In key stage 2 the reading journey continues. Your child is expected to read independently daily and to read a range of text types. We ask parents to take an active role and to listen to reading and discuss reading at least three times a week.
Book Talk:
Have you read anything like this before?
What does this book make you think about?
Would you like to meet the characters in this book? Why?
Where could you find out more?
Poetry Talk
How does this poem make you feel?
What do the words and phrases mean?
Why did the author choose to.............?
Non- fiction talk
What have you found out?
What else do you know?
What else would you like to know?
Finding a good book
How to help your child find the right book
Take a look at the book lists below or follow the link to the book trust..