Computing
Together We Make Learning A Memorable, Unmissable Adventure
A high-quality computing education equips pupils to use computational thinking and creativity to understand and change the world. Computing has deep links with mathematics, science, and design and technology, and provides insights into both natural and artificial systems. The core of computing is computer science, in which pupils are taught the principles of information and computation, how digital systems work, and how to put this knowledge to use through programming. Building on this knowledge and understanding, pupils are equipped to use information technology to create programs, systems and a range of content. Computing also ensures that pupils become digitally literate – able to use, and express themselves and develop their ideas through, information and communication technology – at a level suitable for the future workplace and as active participants in a digital world.
The national curriculum for computing aims to ensure that all pupils:
can understand and apply the fundamental principles and concepts of computer science, including abstraction, logic, algorithms and data representation
can analyse problems in computational terms, and have repeated practical experience of writing computer programs in order to solve such problems
can evaluate and apply information technology, including new or unfamiliar technologies, analytically to solve problems
are responsible, competent, confident and creative users of information and communication technology.
Our computing curriculum was last reviewed in 2018-19 when we adopted the Wessex scheme. This Scheme was chose because of the quality of resources and e-safety element- the computing curriculum will be reviewed on 2021-22
Computing at newton Burgoland
We value the contribution ICT can make to learning. NBPS offers a range of high quality computing resources to support and enhance teaching and learning. We use technology as a tool to inspire, motivate and raise standards across the curriculum.
Our school aims to provide an environment where access to computing resources is natural and commonplace. We are mindful of the rapid progress in the area of technology and aim to keep abreast of advances to prepare our children for the twenty first century.
Our school allows children to appreciate the relevance of computing in society and encourages them to see it as an essential tool for learning, communication, finding information and controlling and understanding their environment. This is reflected through the positive attitude of both the pupils and staff towards computing.
Our learners are digital natives. They have never lived in a world without computers and cell phones. They have grown up with social media and the Internet; they cannot imagine a less-connected, less-instant world. We recognise their and our vulnerability to digital persuasion and digital deception alongside the ability to find an instant answer.
We want learners to be prepared for their future in a rapidly changing digital world, to understand the value and risks of the Internet so that they are e-confident and e-safe. We want them to be knowledgeable, responsible creators and consumers of digital content.
Where possible creative units of work are aligned to termly or half-termly themes, so that learners are engaged and motivated to produce work for a purpose. Programing supports learning in maths and science. Pupils progress from testing and improving simple instructions in class 1 to applying learning about angle and distance in class 4. Units of work with 'scratch' increase in challenge from class 2 to class 4.
The school uses the Wessex Computing Scheme, which includes an e-safety unit annually building knowledge and understanding progressively. Learners support and lead the development of e-safety through the 'Internet Legends' programme. Year 5 and 6 pupils visit the e-safety zone within warning zone.
The curriculum is planned and organised so that all learners have the opportunity to revisit and refine knowledge, skills and techniques.
Approximately 30 hours annually is allocated to computing- some of this time is cross-curricular.
We have a computing curriculum organised under four main strands: Programming, Technology in Our Lives, Multimedia and Handling Data. Overarching all of our Computing work across the entire curriculum is the vitally important thread: E-Safety. More information about E-Safety can be found on our E-Safety page here.
Assessment, recording and reporting progress in computing
In all subjects there are three broad areas for assessment:
Children's knowledge and understanding
How well children can use and apply their knowledge, understanding and skills at the end of a unit of work to complete an independent (of an adult) task or challenge.
How well learners are developing habits for learning and character
Teachers assess learner's work, their attitudes, increasing skills, knowledge and understanding, by making informal judgements as they observe them during lessons. This assessment enables planning to be tailored to meet learners needs. Assessment encompasses teacher, peer and self-assessment. In all subjects, opportunities for both Assessment for Learning and Assessment of Learning are built into provision. Learners are supported to reflect on their own learning and, age appropriately, to make judgements about their strengths and needs, beginning to plan how to make progress and set personal targets.
Baseline assessment, in order to understand pupils' prior learning, is an essential part of planning to ensure new learning is relevant and progress can be assessed.
The learners work, in particular baseline assessments and end of unit assessments, which are recorded within learners' workbooks are used to make decisions at the end of each unit, and at the end of each year, as to next learning steps and whether or not learners are making strong progress and are on track for end of key stage expectation. Work in computing will sometimes be stored digitally.
Progress is recorded and reported to parents as part of the child's annual school report
early Years Foundation stage
Understanding the world (UTW) is one of four specific areas of learning in the EYFS Curriculum Framework.
Understanding the world involves guiding children to make sense of their physical world and their community through opportunities to explore, observe and find out about people, places, technology and the environment
UTW has three aspects; Technology being most related to future learning in computing.
People and communities: children talk about past and present events in their own lives and in the lives of family members. They know that other children don't always enjoy the same things, and are sensitive to this. They know about similarities and differences between themselves and others, and among families, communities and traditions.
The world: children know about similarities and differences in relation to places, objects, materials and living things. They talk about the features of their own immediate environment and how environments might vary from one another. They make observations of animals and plants and explain why some things occur, and talk about changes.
Technology: children recognise that a range of technology is used in places such as homes and schools. They select and use technology for particular purposes.
Learning in computing will support learning in Maths, Personal, Social and Emotional Development and communication and Language.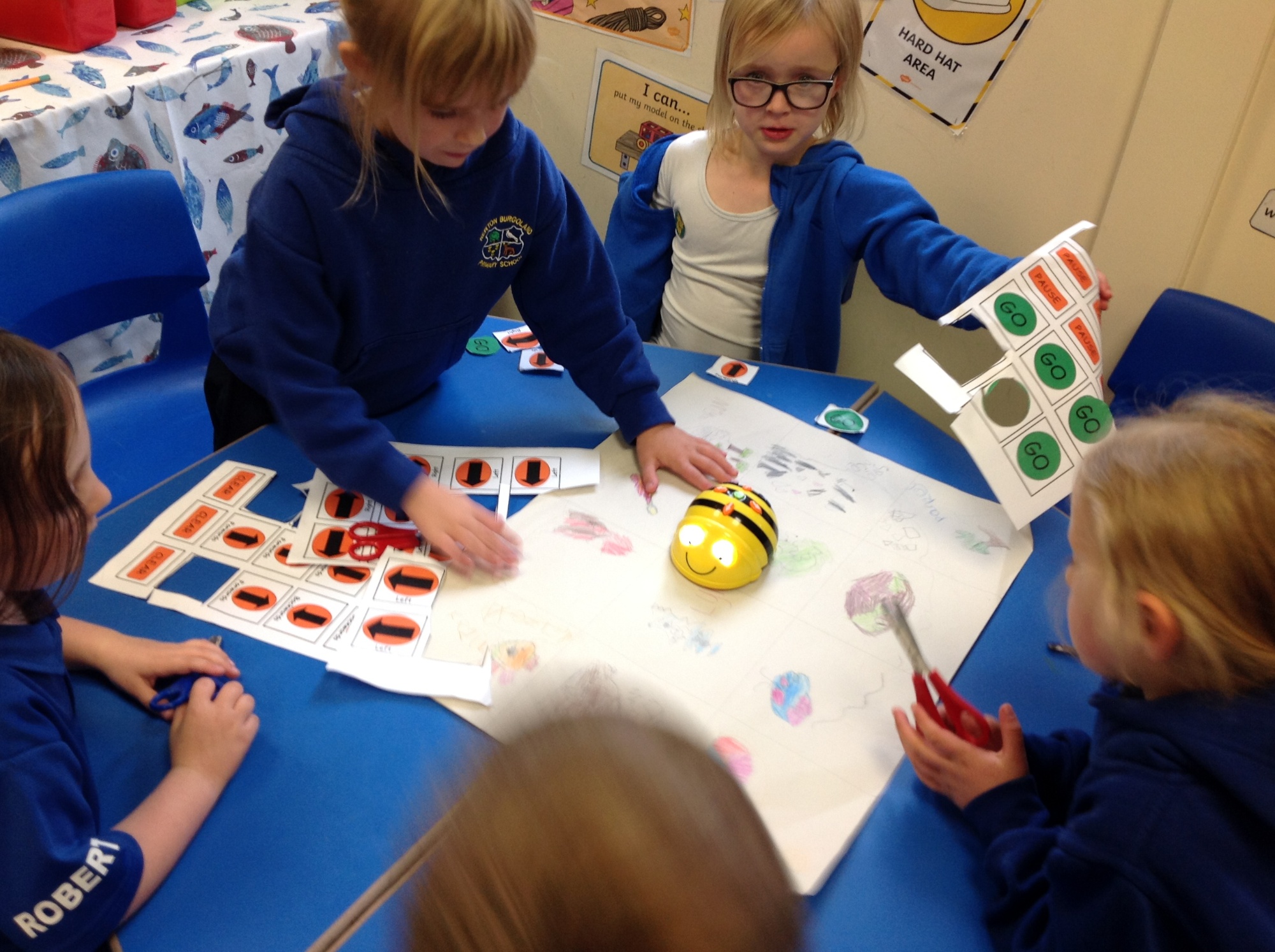 SEND
Computing is taught to all children, whatever their ability, in accordance with the school curriculum policy of providing a broad and balanced education to all children. Teachers provide learning opportunities matched to the needs of children with learning difficulties.
programming
Programming involves the key skills of computing that are also transferrable to other areas of the curriculum. Pupils have to sequence events to make a program work, incorporate conditions that must be fulfilled and, in the event of malfunction, debug their codes as required.
In year 1, pupils explore simple programming with Beebots, then develop this into on-screen programming with 2GO software.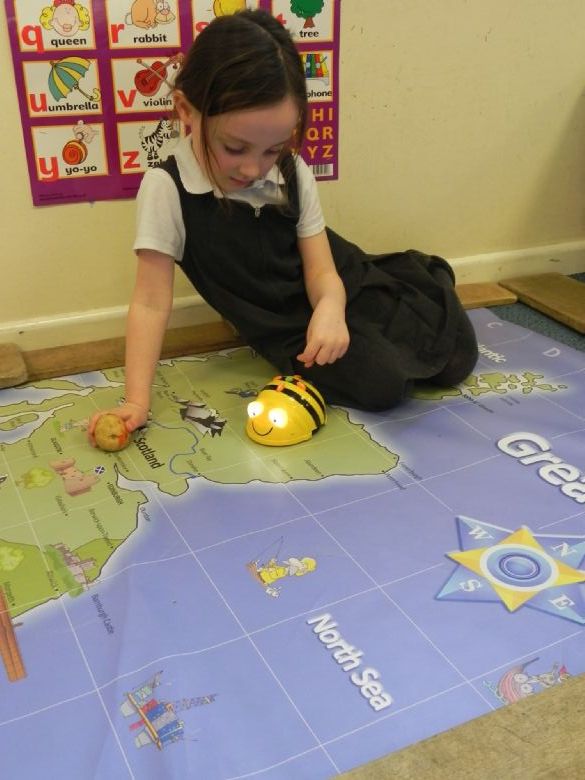 In Year 2, pupils begin to explore very basic and straightforward Algorithms in Scratch.
In Years 3 and 4, pupils develop the complexity of their coding in Scratch and develop their skills their ability to produce algorithms with a range of outputs.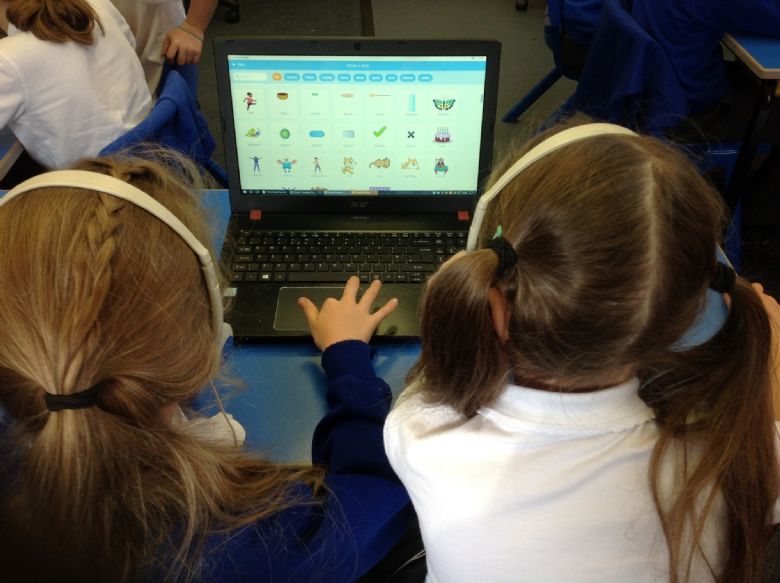 In years 5 and 6 pupils develop understanding of variables, 'If' commands and 'Repeat' commands. They also look at a wider range of programming software such as Kodu and 2Code. This year we are inviting parents to join us in class 4 to build lego mind storms robots and program them.
Here is an example of using code on Level 3 of 'Logo' (available through the J2 Code website) to create patterns and shapes: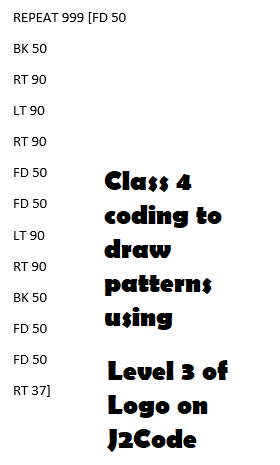 technology in our lives
Through this strand, our pupils learn about the various technologies they use in their lives, and analyse how they can use them more effectively. They look at how the Internet works, how technology helps them in everyday aspects of their lives and how their information is used and transferred.
In Year 1 pupils learn about the range of technology in their lives, comparing online and offline games such as jigsaw puzzles. They also develop their ability to search the Internet for information.
In year 2 pupils learn about how they use technology in their everyday lives, the benefits and drawbacks of this and learn more advanced searching techniques online.
In years 3 and 4 pupils develop these skills further and learn how search engines work to rank and display information. They share the E-Safety rules for using search technologies.
In Years 5 and 6 pupils learn how to manipuilate search engines to perform more effectively and for a more specific purpose. They also their develop their existing skills of how to critique and question content and how to check reliability from a range of sources.
Class 4 enjoyed learning about how The Internet Works and produced posters to explain the systems they learnt about.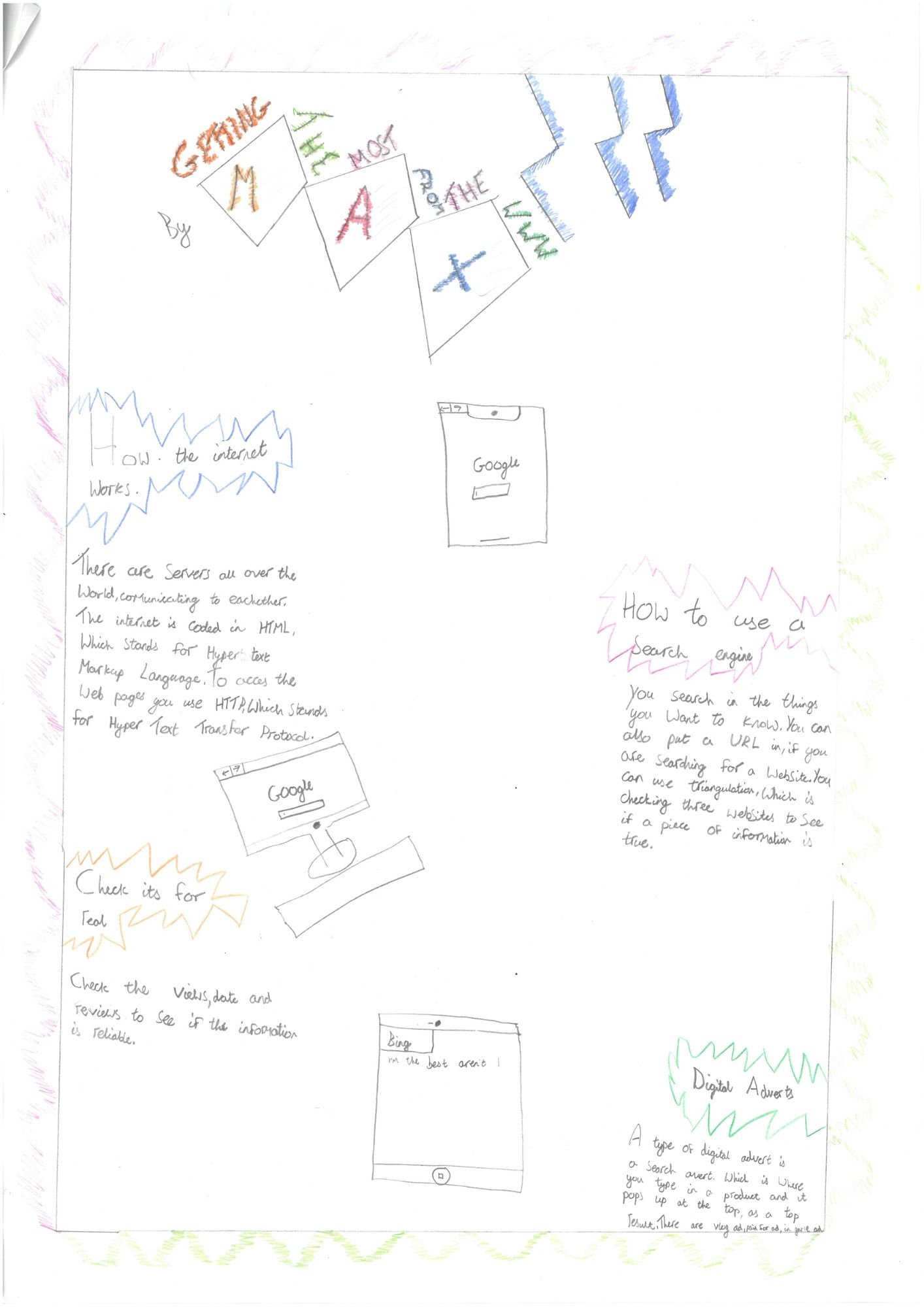 multimedia
Multimedia incorporates presentation software, video, audio and even gaming such as Minecraft to create a strand that really makes children aware of how fantastic technology is and we use it all around is in a fun and exciting way.
In Year 1 pupils learn how to add text to an image, record an image using a camera and make a flipbook animation using a computer.
In year 2 pupils learn how to produce an electronic information log such as a blog or simple e-book, as well as record video using camera technologies.
In years 3 and 4 pupils develop their e-book skills with more advanced software such as Book Creator, linking this into their topic and DT work. They use hyperlinks in powerpoint to create a presentation.
In years 5 and 6 pupils learn how to edit and publish their online photos and videos, understanding the E-Safety implications of this as they do so.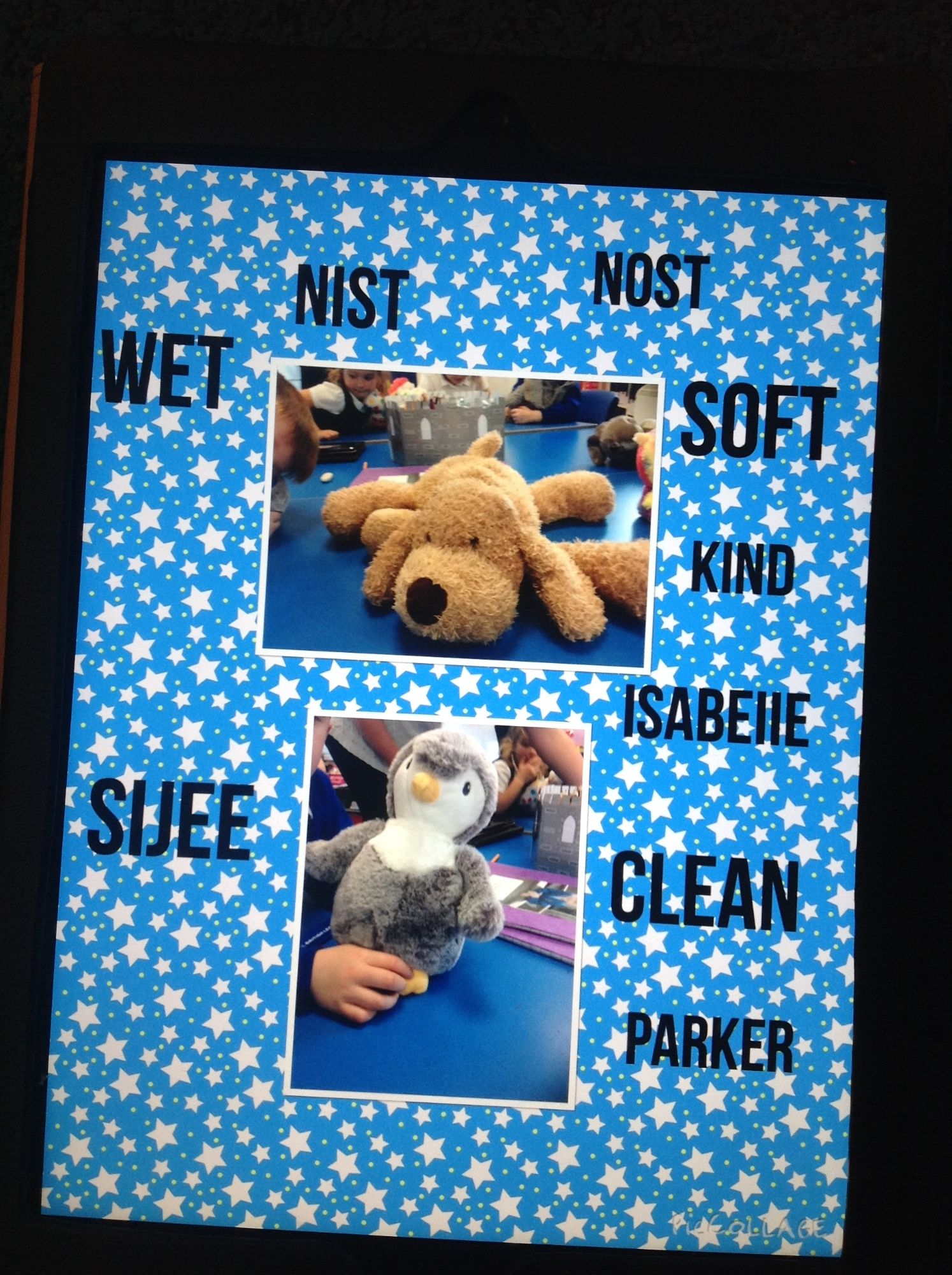 Class one created word banks by adding photographs and text in pic collage.
handling data
In this unit, pupils learn about how to use data handling software such as Excel and Access, but also learn the most important element of all: how computers help us to handle data and aid us in our everyday lives.
In year 1 pupils produce simple pictographs using 2Simple and 2Count as a way of presenting data.
In year 2 pupils use computing technologies to sort and classify information and data, and make simple block graphs.
In years 3 and 4 pupils use the basic graphing functions of Excel to record and display data.
In years 5 and 6 pupils use formula, formatting and lookup functions to log and find information in an Excel Database.