Geography
Together We Make Learning A Memorable, Unmissable Adventure
We want pupils to be curious and fascinated by the world and its people. We want pupils to understand their roles as stewards of our world; to know about diverse places, people, resources and natural and human environments, together with a deep understanding of the Earth's key physical and human processes. We want them to understand that we are all connected and responsible for the future of our planet.
A high-quality geography education should inspire in pupils a curiosity and fascination about the world and its people that will remain with them for the rest of their lives. Teaching should equip pupils with knowledge about diverse places, people, resources and natural and human environments, together with a deep understanding of the Earth's key physical and human processes. As pupils progress, their growing knowledge about the world should help them to deepen their understanding of the interaction between physical and human processes, and of the formation and use of landscapes and environments. Geographical knowledge, understanding and skills provide the frameworks and approaches that explain how the Earth's features at different scales are shaped, interconnected and change over time.
The national curriculum for geography aims to ensure that all pupils:
develop contextual knowledge of the location of globally significant places – both terrestrial and marine – including their defining physical and human characteristics and how these provide a geographical context for understanding the actions of processes
understand the processes that give rise to key physical and human geographical features of the world, how these are interdependent and how they bring about spatial variation and change over time
are competent in the geographical skills needed to:

collect, analyse and communicate with a range of data gathered through experiences of fieldwork that deepen their understanding of geographical processes
interpret a range of sources of geographical information, including maps, diagrams, globes, aerial photographs and Geographical Information Systems (GIS)
communicate geographical information in a variety of ways, including through maps, numerical and quantitative skills and writing at length.
For information on the geographical topics covered in each year please visit the curriculum plans section and read the class newsletters.
Geography At Newton Burgoland
We want learners to be interested in the world they are growing up in, aware of the importance of stewardship and of global and local issues. We aim to give pupils a broad range of knowledge about their world, combined with curiosity and the skills to be able to find out more.
Where possible links are made between study in other subject areas and geography. We draw on learners own experiences. In keystage 1- sharing Joffli bear's journeys locally, nationally and at times internationally.
Our curriculum moves from the local area, to the United Kingdom and beyond, using picture books and stories in key stage one to explore places we may never visit, and the lives of others. We take advantage of trips and visits in other curriculum areas asking:
What is this place like?
Who lives here?
How is this place like other places I have visited? In what ways is it different?
Why is this place like this?
Through membership of Odizzi we can find out about the lives and interests of other children around the globe, explore their customs, understand that we are all equal and celebrate diversity. Guided reading will sometimes support learning in geography where relevant texts can be sourced. A range of texts from the National Geographic Society, suitable for young and early readers, are available within our reading scheme.
The curriculum is organised to enable leaners to revisit and explore, with greater maturity, themes of: settlement and place; mans impact on the earth; atlases, maps and globes; geographical phenomena and field work.
Approximately 30 hours is allocated to geography annually in key stage 2. (15 in key stage 1 so that basic skills development including reading and PSHCE can be prioritised)
Those working at greater depth are able to make connections between units of study. They go beyond the knowledge studied and ask questions to further their understanding.
Assessment, recording and reporting progress in geography
In all subjects there are three broad areas for assessment:
Children's knowledge and understanding
How well children can use and apply their knowledge, understanding and skills at the end of a unit of work to complete an independent (of an adult) task or challenge.
How well learners are developing habits for learning and character
Teachers assess learner's work, their attitudes, increasing skills, knowledge and understanding, by making informal judgements as they observe them during lessons. This assessment enables planning to be tailored to meet learners needs. Assessment encompasses teacher, peer and self-assessment. In all subjects, opportunities for both Assessment for Learning and Assessment of Learning are built into provision. Learners are supported to reflect on their own learning and, age appropriately, to make judgements about their strengths and needs, beginning to plan how to make progress and set personal targets.
Baseline assessment, in order to understand pupils' prior learning, is an essential part of planning to ensure new learning is relevant and progress can be assessed.
The learners work, in particular baseline assessments and end of unit assessments, which are recorded within learners' workbooks are used to make decisions at the end of each unit, and at the end of each year, as to next learning steps and whether or not learners are making strong progress and are on track for end of key stage expectation.
Progress is recorded and reported to parents as part of the child's annual school report
Geography in Early Years foundation stage
Understanding the world (UTW) is one of four specific areas of learning in the EYFS Curriculum Framework.
Understanding the world involves guiding children to make sense of their physical world and their community through opportunities to explore, observe and find out about people, places, technology and the environment
UTW has three aspects; People and Communities and The world being most related to future learning in Geography.
People and communities: children talk about past and present events in their own lives and in the lives of family members. They know that other children don't always enjoy the same things, and are sensitive to this. They know about similarities and differences between themselves and others, and among families, communities and traditions.
The world: children know about similarities and differences in relation to places, objects, materials and living things. They talk about the features of their own immediate environment and how environments might vary from one another. They make observations of animals and plants and explain why some things occur, and talk about changes.
Technology: children recognise that a range of technology is used in places such as homes and schools. They select and use technology for particular purposes.
Learning in Geography will support learning in Expressive Arts, Maths, Personal, Social and Emotional Development and communication and Language.
SEND
Geography is taught to all children, whatever their ability, in accordance with the school curriculum policy of providing a broad and balanced education to all children. Teachers provide learning opportunities matched to the needs of children with learning difficulties.
learning in EYFS
Locational knowledge and Place knowledge
notice things in the place where they are and react to them by commenting.
ask questions.
respond to questions – like what and where?
The capital city of the UK
Where they live
What the school is like
That people live in different kinds of homes and families
That there are different oceans
That there are different countries
The names of some places around the world
Fieldwork
use some of their senses to observe places
identify simple types of buildings & places around and know their special features
Use of basic geographical vocabulary
use simple geographical vocabulary e.g. near/far up/down, wet, dry.
describe a place in simple terms e.g. weather, season, beach, farm, hill, town, shop, house.
Using globes, maps & plans.
play games with globes & maps.
draw simple picture maps, plans with labels of known places , or imaginary places/ stories.
Use their own symbols.
That atlases and globes can be used to find out about the world
That maps helps us to locate places and features
Map work skills
follow directions – up, down, left and right
identify local features on aerial photograph.
draw round objects 1:1 to get plan view
That maps helps us to locate places and features
Human and physical geography: enquiry skills and communication
I use secondary sources – pictures, photos, stories, films to find out about a place
tell what a place is like in simple terms
How and why people travel to different places
That places have different kinds of weather
That we have to take care of our environment
That we live on an island
What it might be like to live in a different place
learning In KS1
Locational knowledge and Place knowledge
the world's 7 continents and 5 oceans
name, locate &identify characteristics of the 4 countries & capital cities of the UK & surrounding seas
understand geog. similarities and differences through studying the human & physical geography of a small area of the UK & contrasting non-European country
Where they live and where Leicester is on a UK map Fieldwork
use simple fieldwork and observational skills to study the geography of the school and its grounds.
complete a chart to express opinions during Fieldwork.
use first hand observation to investigate places – the school grounds, the streets around and the local area.
recognise and record different types of land use, buildings and environments
Use of basic geographical vocabulary
understand basic geographical specific vocabulary relating to human and physical geography
use specific key vocabulary to describe physical features
key human features
use mathematical vocabulary to describe position and location
Using globes, maps & plans.
How to find information in a simple atlas
use world maps, atlases and globes to identify UK & its countries
identify the countries, continents and oceans studied.
identify the location of hot and cold areas of the world in relation to the Equator and the North and South Poles.
use aerial photographs and plan perspectives to recognise landmarks and basic human and physical features.
Map work skills
follow a route on prepared maps (left/right) & find information.
use simple compass directions (NSEW)
use locational and directional language (e.g. near and far; left and right) to describe the location of features and routes on a map.
make a simple map (e.g. from a story).
use & construct basic symbols in a key
Human and physical geography: enquiry skills and communication
The difference between human and natural features
use observational skills and ask and respond to questions.
identify seasonal/ daily UK weather patterns
study the key human and physical features of the surrounding environment of my school
begin to explain how/why
find information from aerial photographs.
use and apply Maths to help me to show learning
How humans can change a place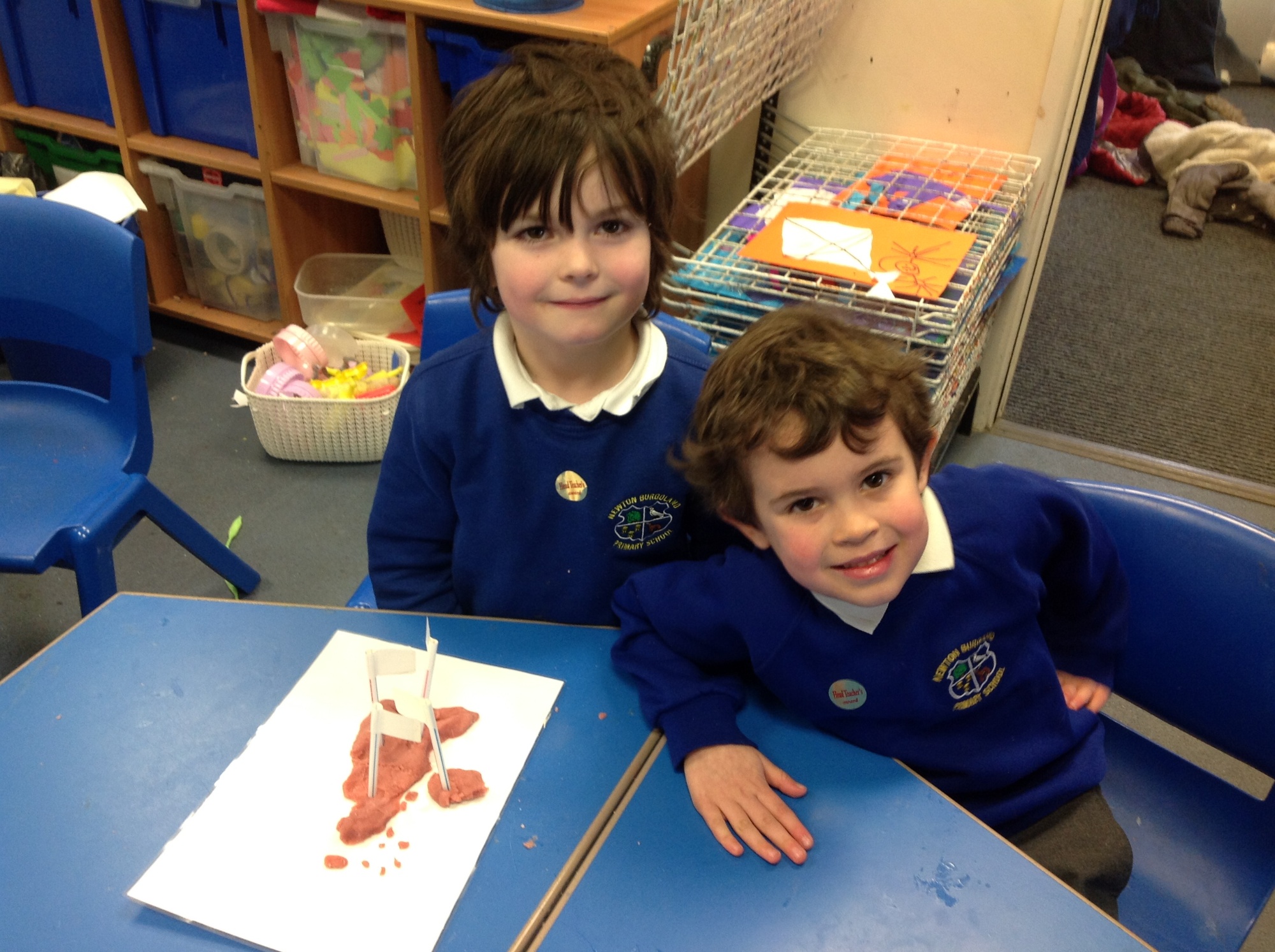 Our playdough UK maps with labelled countries.
learning in KS2
Locational knowledge
 locate the world's countries, using maps to focus on Europe (including the location of Russia) and North and South America, concentrating on their environmental regions, key physical and human characteristics, countries, and major cities
 name and locate counties and cities of the United Kingdom, geographical regions and their identifying human and physical characteristics, key topographical features (including hills, mountains, coasts and rivers), and land-use patterns; and understand how some of these aspects have changed over time
 identify the position and significance of latitude, longitude, Equator, Northern Hemisphere, Southern Hemisphere, the Tropics of Cancer and Capricorn, Arctic and Antarctic Circle, the Prime/Greenwich Meridian and time zones (including day and night)
Place knowledge
 understand geographical similarities and differences through the study of human and physical geography of a region of the United Kingdom, a region in a European country, and a region within North or South America
Human and physical geography
 describe and understand key aspects of:
 physical geography, including: climate zones, biomes and vegetation belts, rivers, mountains, volcanoes and earthquakes, and the water cycle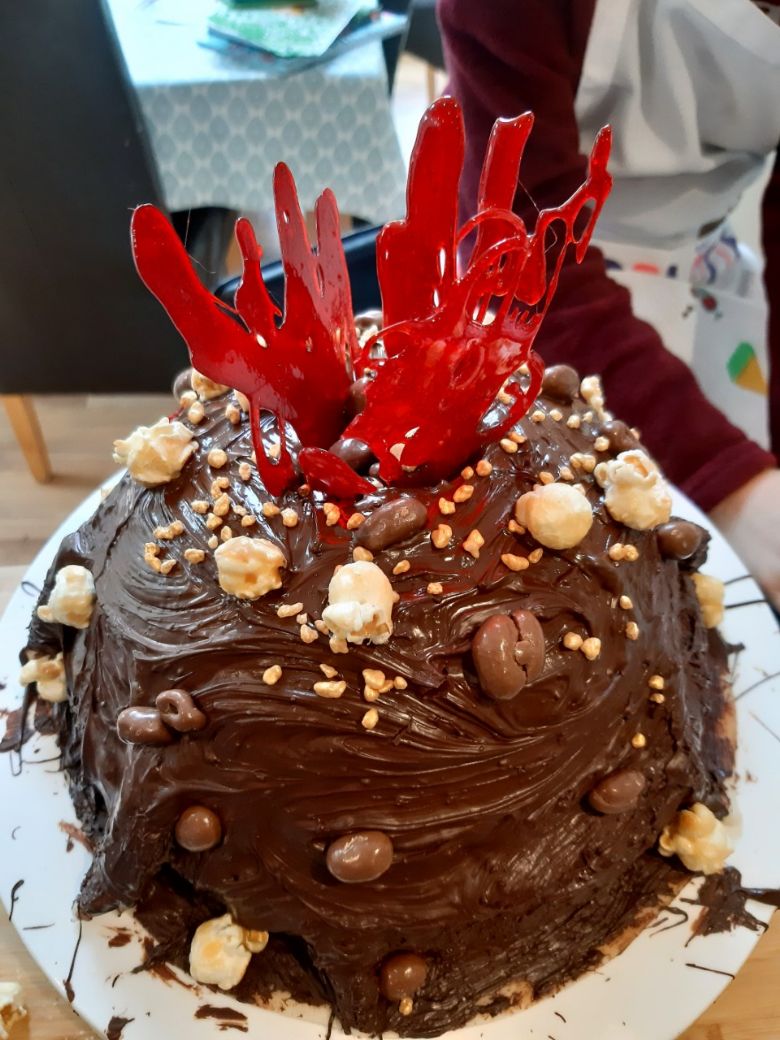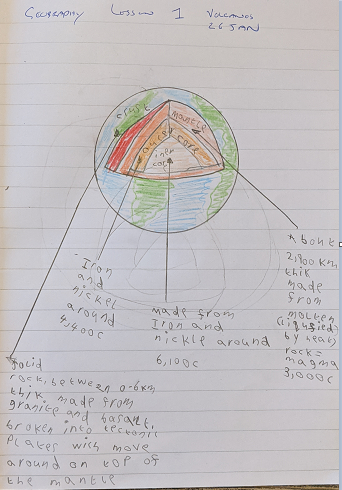 Remote Learning gave us an opportunity to explore volcanos creatively adn deliciously!
 human geography, including: types of settlement and land use, economic activity including trade links, and the distribution of natural resources including energy, food, minerals and water
Pupils explored land use and trade around the river Nile as part of their work on Ancient Egypt. They made links to work in science on desert habitats and the importance of water. When looking later, at other Ancient Civilisations they will again look at the importance of water and food sources and the impact on location. In this way pupils revisit previous work, aiding long term memory.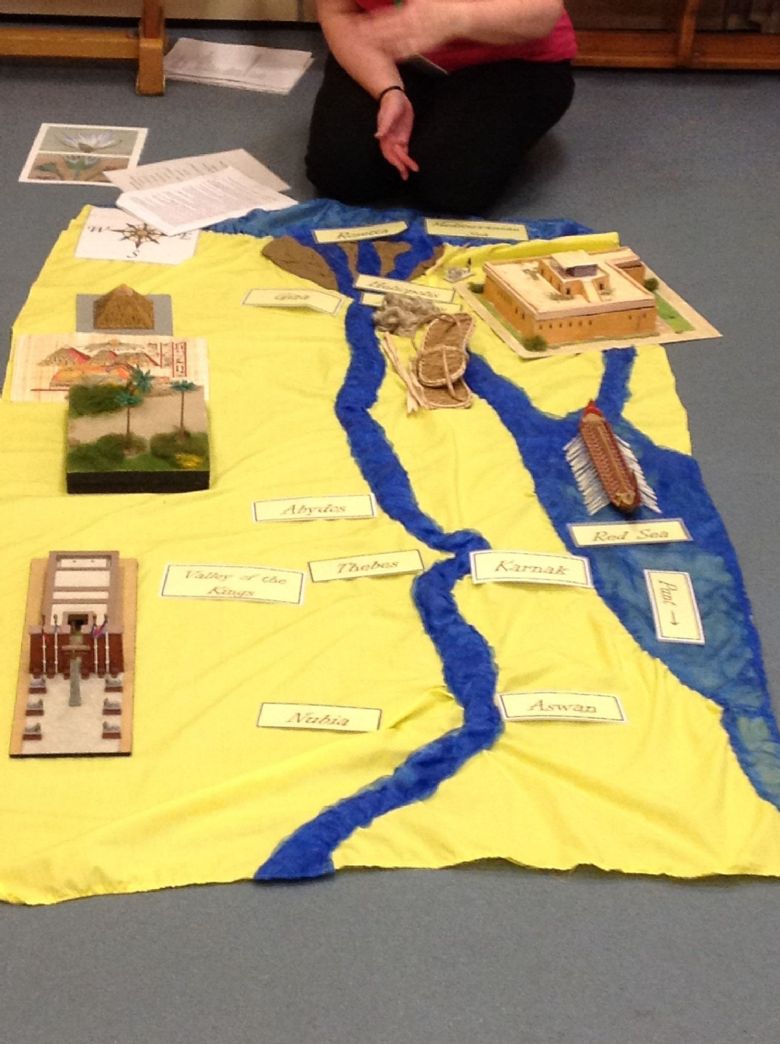 Pupils in Class 4 loved learning about the Amazon Rainforest as part of their topic on South America, with many of them making creative sculptures and models of Amazonian life. Pupils did this with a solid understanding of the Amazonian Biome and how animals in this environment are adapted, building on their habitats learning in Class 3.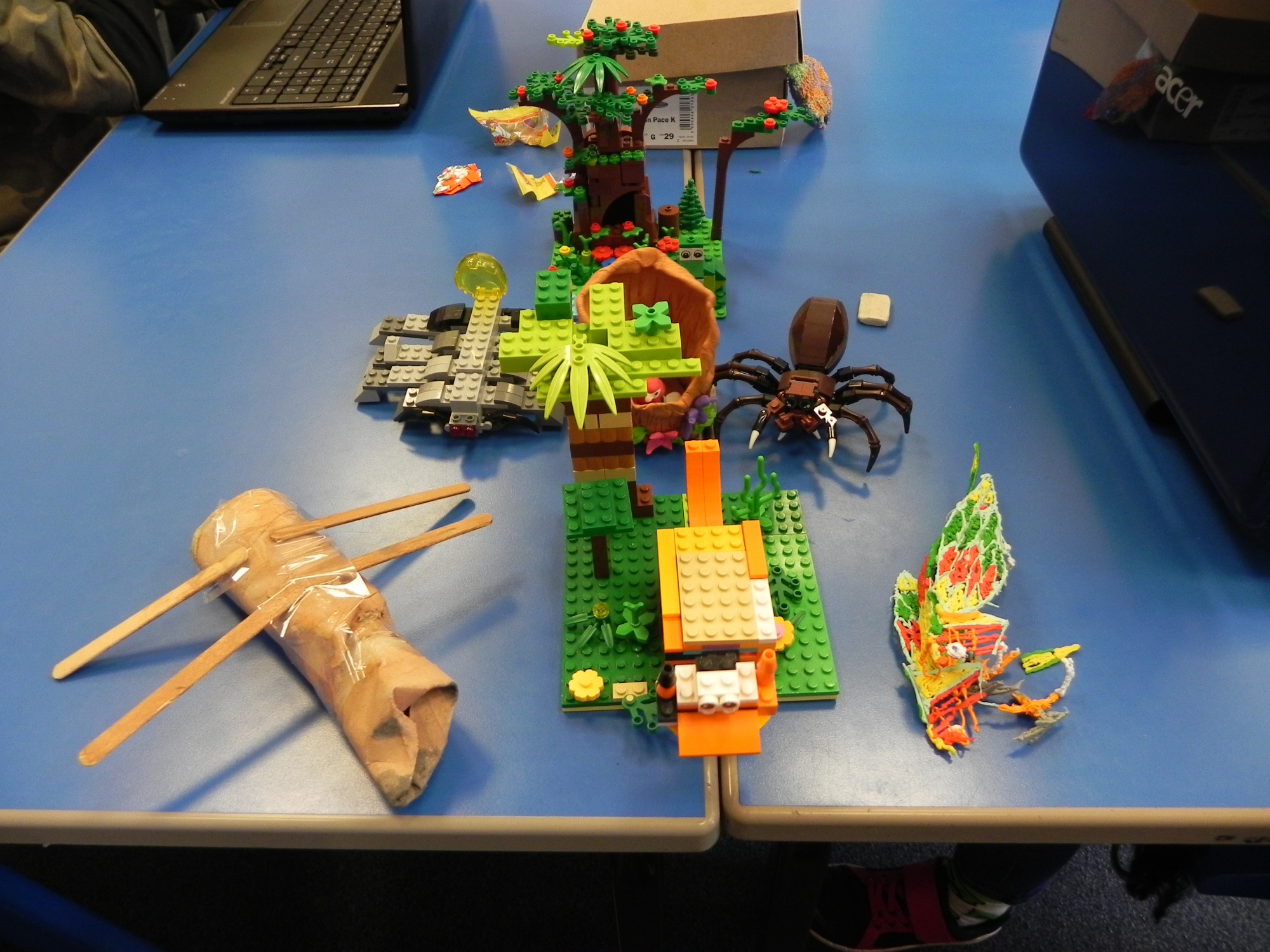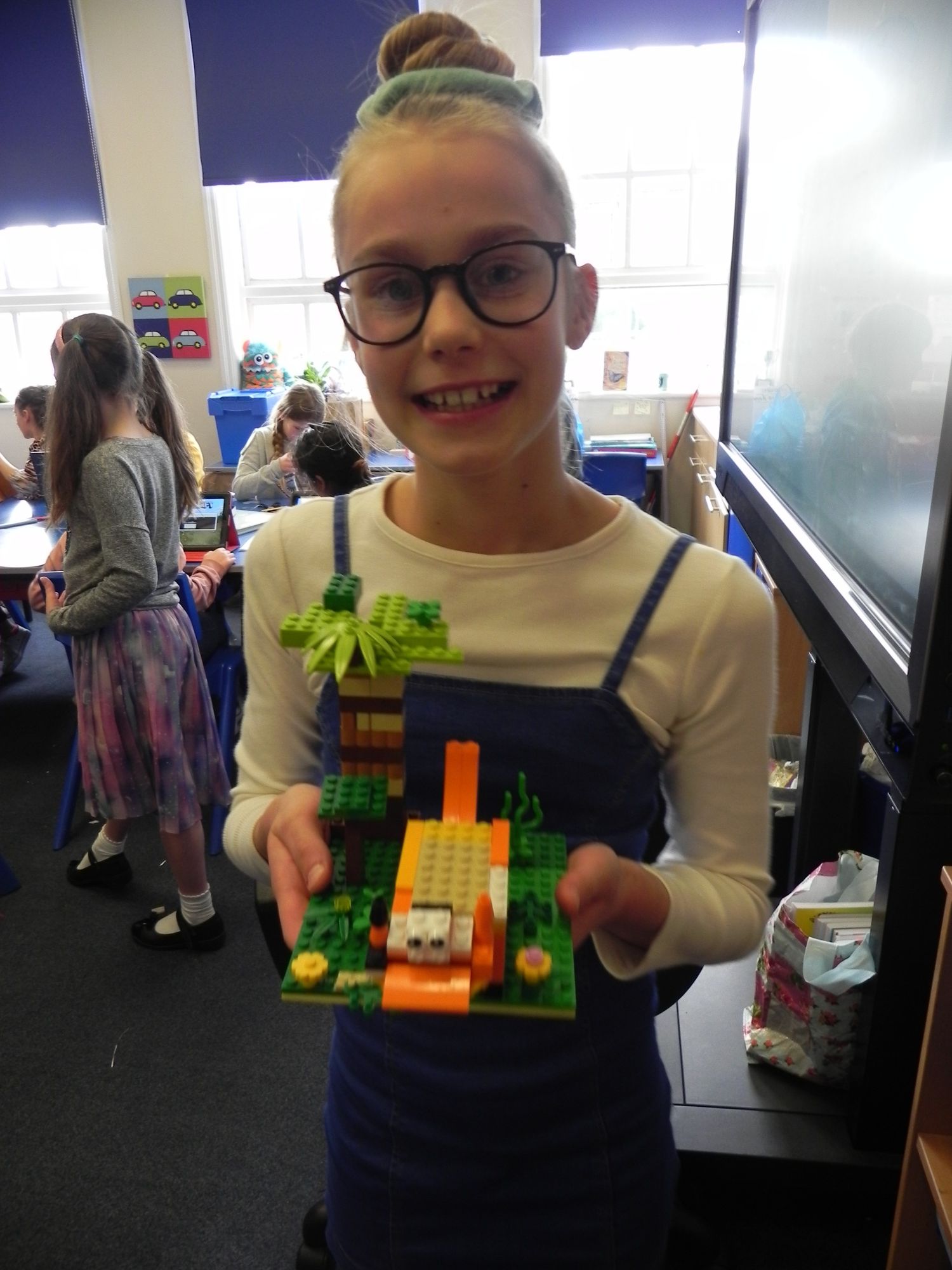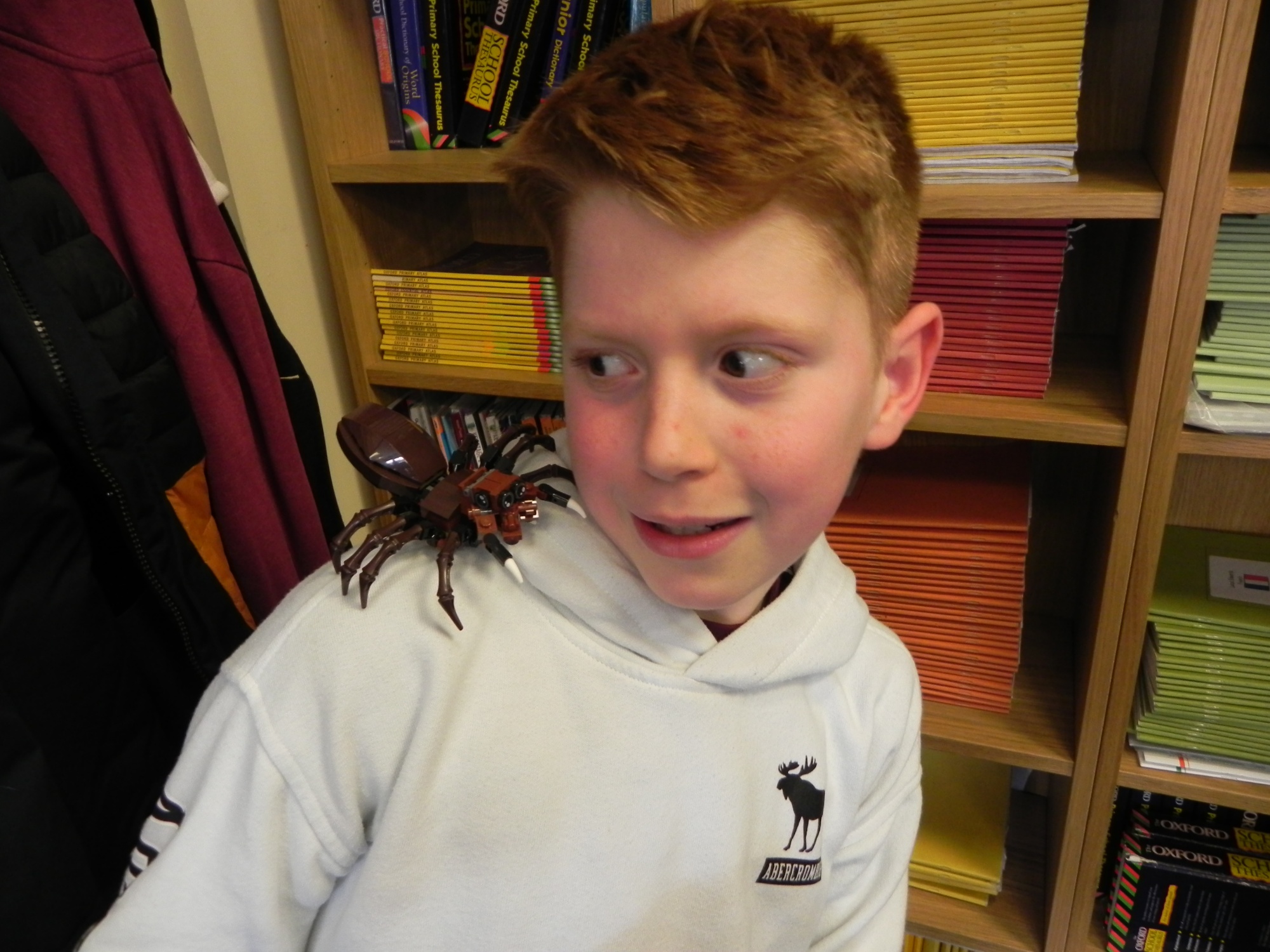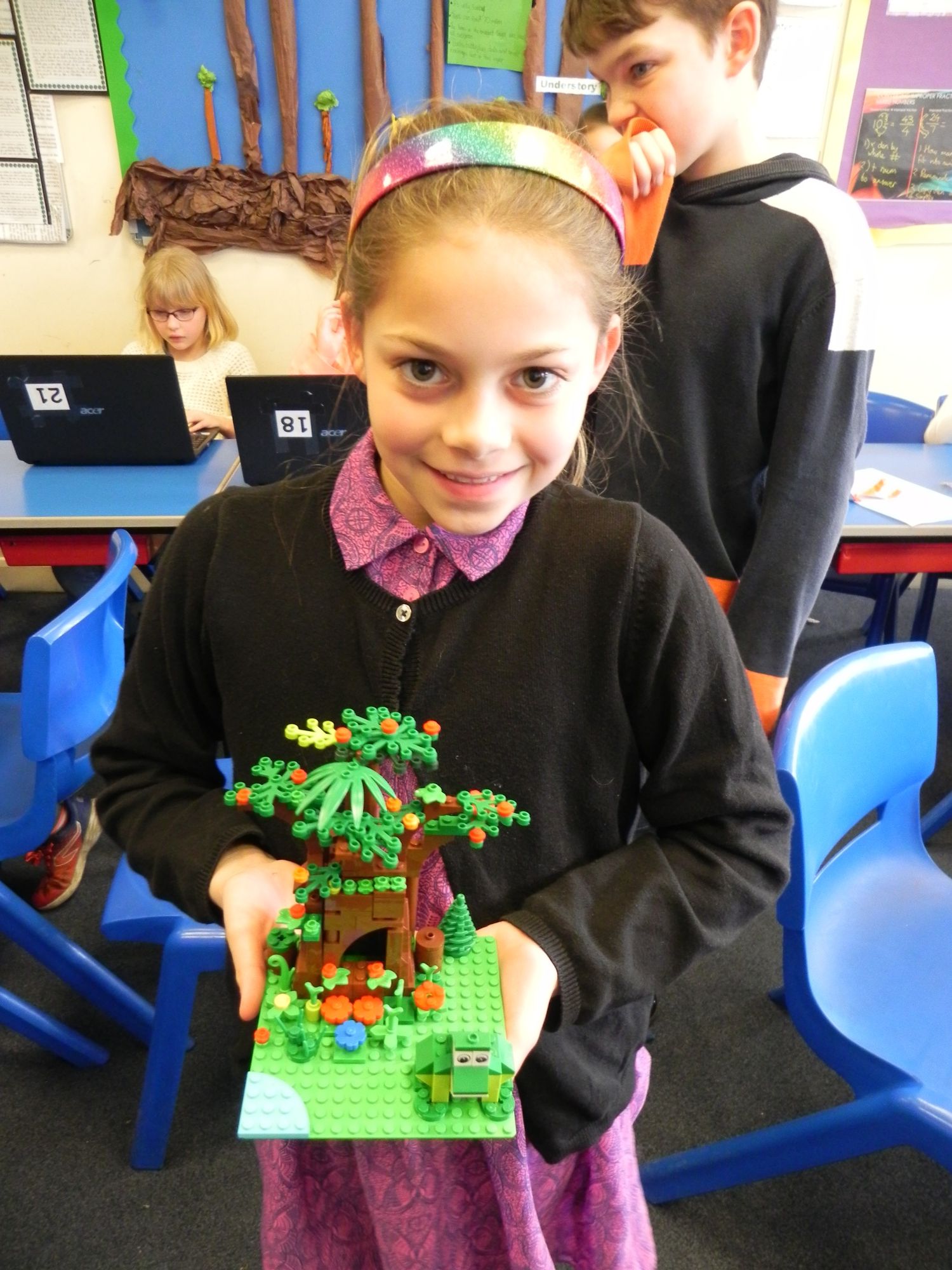 Pupils in Class 4 also loved taking part, due to Covid-19, in 'Virtual Fieldwork' using Google Maps Street View. They then used this fieldwork to mark various types of housing in the village onto an OS Map of the area.