Learning And the Curriculum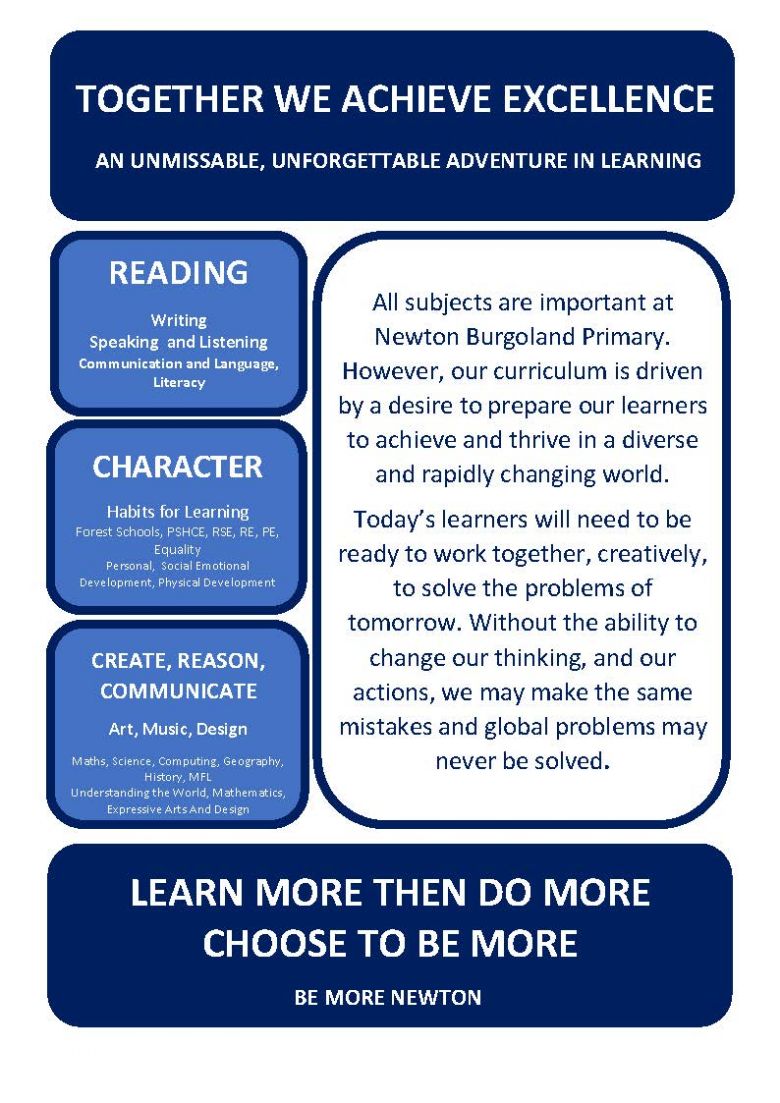 In 2018, we implemented our curriculum based on the drivers above, These were agreed by all stakeholders. We have revisited our curriculum in 2021 to ensure that it is fit for purpose and remains broad and relevant following the recent disruptions to education. Please contact the school office or talk to your child's class teacher if you would like further information.
Year A: 2021/22
Year B: 2022/23
Class plans can be found here.
Our motto: Together We achieve Excellence is reflected in all aspects of school life - the high levels of respect and unconditional positive regard we show to each other. Everyone has a voice in our school community, but we recognise that we cannot please everyone all the time and all decisions are made with the best interests of the whole community in mind.
For paper copies of curriculum information please contact the school.
Further Information
Together we make learning
an unmissable,unforgettable adventure.
We follow the National Curriculum,responding to the needs of our learners, with a focus on engaging and challenging every pupil. Since our last inspection we have worked hard to develop our curriculum- it is an ongoing process as we respond to changing pupil needs and educational developments. We believe in the importance of knowing, exploring and sharing learning through precise communication; ensuring all of our pupils leave Newton Burgoland Primary School as successful learners; active members of their community and fully prepared for life's challenges. All of our lessons include an emphasis on the development of knowledge and of core skills for life:
Reading
Character
Creating, Reasoning and Communicating
We are determined that learners not only gain cultural capital but also embodied and objectified capital so that they are fully prepared to achieve in life. We are determined that no child misses out socially or educationally for any reason.
Learning is organised into themes and units with connections between subjects, when appropriate, and when those connections support learning. Trips and visits enhance our curriculum, enriching and cementing learning for all.
Learning outside the classroom, including forest schools is an essential part of our curriculum- supporting pupils' well-being and mental health.
Use the links to find out about each subject. if you would like any further information please attend one of our open afternoons or morning to share pupils learning journeys or speak to your child's class teacher.