Learning at home Covid-19
Learning AT HOME 2021
Jan 2021
Dear Year 2 parents,
We have listened to your comments about our remote provision – thank you. As expected there have been some changes to DFE guidance regarding remote learning, they like us are listening to feedback and working on ways to meet the challenges that covid-19 and remote learning are raising. It is a learning curve for us all. Above all we want to support our families who are working remotely without creating unnecessary pressure or stress.
Below you will find information about our school day for the children who are in school and our expectations for their work. Please don't hesitate to ask if you need any help.
We recognise that for many families it is extremely hard to manage adults' home-working and children remote learning, all we can ask of ourselves and each other, at this time, is kindness – bed time will come and anything not done will have to wait.
Over the next couple of weeks, we would expect our year 2 pupils to become more independent. We have chosen materials which build on the learning already completed in class this year. Although we want your child to engage with work on a daily basis, please do not feel that you need to send work daily if this creates unnecessary stress. Work should be submitted by 9 am Thursday for all pupils so that we can plan or adjust the following weeks learning.
Weekly timetable for pupils in school
If this helps then use it – some parents would prefer a structure provided by us. If you are able to complete most of the work set each week then we will all have similar learning needs when we return. Let us know if you need any help, including work printing out to make life a little bit easier.
Monday

Rainbow writing*

Maths

Phonics and handwriting

Spelling Test

English

PE and team challenges – See grid for at home challenges.

Tuesday

Rainbow writing*

Maths

phonics

Big Maths Beat That

English

History or Geography

Reading

Wednesday

Rainbow writing*

Maths

Phonics and handwriting

Big Maths Beat That

English

Art, Design or Music

PSHCE

Reading

Thursday

Rainbow writing*

Maths

phonics

Big Maths Beat That

English

PE and team challenges – See grid for at home challenges

Friday

Rainbow writing*

Maths

Phonics and handwriting

Big Maths Beat That

English

Science

Reading
Information below*
Each week we will add which lessons are being accessed in school to a timetable and upload it on the year 2 page. We will upload any worksheets which should or could be used and any links to supplementary materials to support you in the same place.
We may email some additional worksheets where they are part of a school subscription and should only be used by purchasing schools. We are happy to print for you to collect.
Rainbow writing
Each week we select a picture and write some sentences about that picture, daily, to practice our writing skills independently.
Grandma fantastic helps us by suggesting vocabulary we could use and by setting a writing challenge
Example: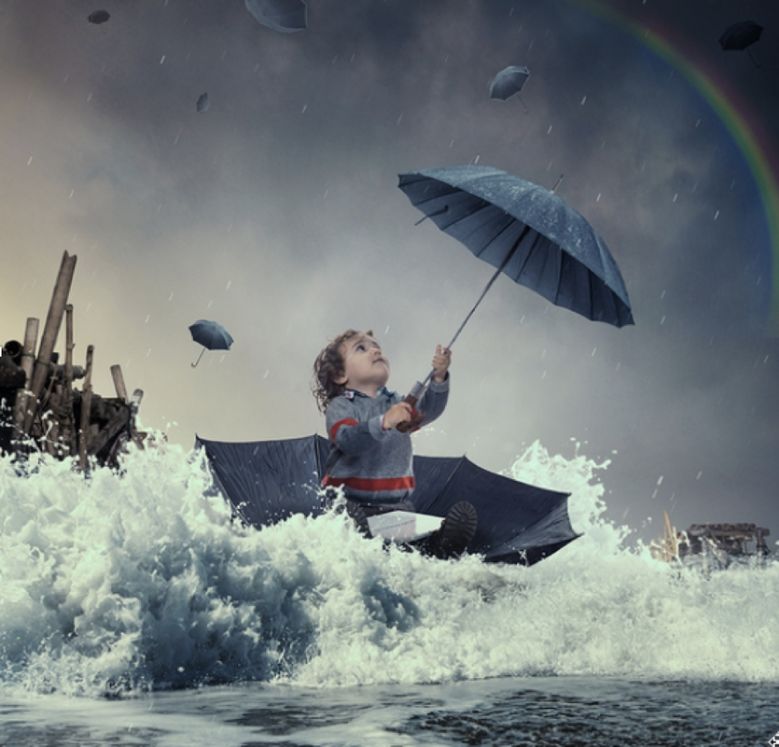 Pobble 365
We will be writing from the point of view of the child in the picture.
This plot-point looks quite positive because of the rainbow and the child's expression but he maybe a little worried about what will happen next.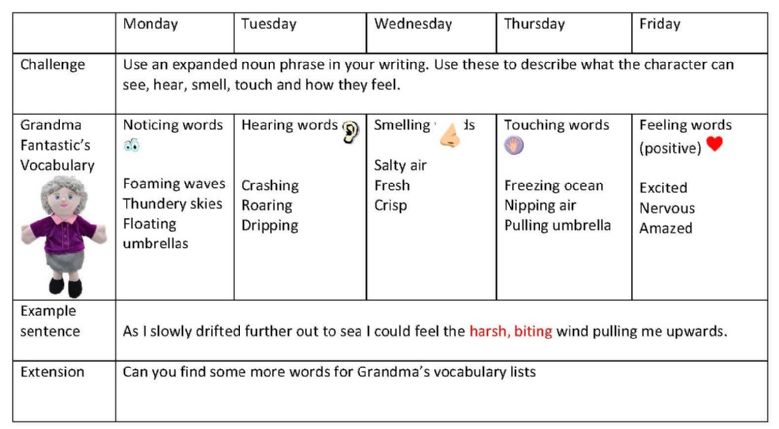 Great writing habits in Year 2:
Sentences start with a capital and end with a full stop.
Proper nouns are capitalised – London, Fred.
Letters are correctly formed, sit on the line with tall letters tall and small letter small – c t y.
Writing is brave and adventurous – we use great vocabulary.
We use coordinating conjunctions and subordinating conjunctions – and, so, but.
We use exclamation marks to show something is really, really e.g. big, small, scary.
We use question marks.
We use adjectives to describe nouns – It was a dark, gloomy day.
We use adverbs to describe how – He shuffled slowly across the room.
We spell the key words from year 1 and the words we have learned from the year 2 list correctly and notice when we have made a mistake so we can correct it.
We use our phonic knowledge to spell words we have not learnt yet.
We read our sentences after we have written them to check they make sense.
We write in pencil and check our work before we finish.
We write well in all subjects.
Fantastic Maths habits in year 2
I use the facts that I know to work out unknown facts.
I use a range of methods and equipment to solve calculations and problems.
I use everyday objects to help me with my maths.
I use my learning pack to support me.
I record my working out in a range of ways.
I ask for help if I need it.I make sure my numbers are formed correctly and the right way around.
I make sure that I write my numbers to 100 accurately.I know my 2, 5 and 10 times tables at speed, I practise if I don't know them.I practise my number bonds every day.
Super learning habits in year 2:
Each week we will set a learning habit target for you to focus on at home. Try to notice when your child is displaying this habit e.g. I really liked how you focused on your maths and persevered even when it was a bit challenging.
We would like you to upload to Tapestry all your child's work daily. However, we know that you are juggling your roles at home so would ask that you upload by Thursday at 9am so we can plan for the following week.
All work will be acknowledged with an emoji. If needed, individual feedback will be given.
We will be calling you at least once a fortnight to provide additional support.
Mrs Waddell and Mrs Hall