PSHCE and Relationshsip Education
Together We Make Learning A Memorable, Unmissable Adventure
We recognise the importance of well being and healthy choices in enabling a child to learn and to thrive at school and beyond; we actively work to support and enhance pupils physical and emotional health.
Intent
We want children to be equipped with the essential skills for a happy and fulfilling life. We want them to have safe and healthy lifestyles; build and sustain positive relationships; have positive attitudes toward learning – knowing that mistakes and misunderstandings help us learn and do not make us failures.
We appreciate that at some point in our lives we all experience difficulties which can make us vulnerable, therefore, through partnerships with parents, our ethos, our curriculum and where needed additional support we;
help children to understand their emotions and feelings better
help children feel comfortable sharing any concerns or worries
help children socially to form and maintain relationships
promote self-esteem and ensure children know that they count
encourage children to be confident and 'dare to be different'
help children to develop emotional resilience
All learners should have a voice and be heard. All ideas are valid but open to respectful challenge. PSHCE is a powerful and empowering subject, helping to prepare our children for their life now and in the future. We want to ensure that our pupils recognise everyone's value in society, have a good understanding of British values and have a strong, positive view of themselves and the contributions they can make. We want them to strive to build brighter futures by being aware of current issues, thinking carefully about how they can contribute to a better future for all and for our planet. We want all our learners to believe that they can be powerful ambassadors for change in our world and that anything is possible if we work together with moral purpose.
We want to ensure that all children at Newton Burgoland Primary school have the opportunity to develop their leadership and collaboration skills through additional responsibilities such as School Council, diversity Champions, Internet Safety champions, Sports Ambassadors and the Eco Team. We want to make sure that our children are well-informed about the problems that the planet faces and are thoughtful about the ways in which everyone can help.
We want all children to feel that the PSHCE curriculum is relevant to them and meets their needs so in key stage 2 our pupils work together weekly to look at 'Fridays for the Future' exploring themes which matter to them.
Implementation
Our PSHCE curriculum was reviewed in 2018-19.
We worked with and consulted parents to develop our policy for RSE in 2020.
KS1 units
Class one and two will teach the units at the same time. Over the 3 years all unit's will be covered. EYFS will join in with the units due to having mixed age classes. It's my body will be covered every year. There are some extra unit's to be fit in for year 2. Digital wellbeing will be fit in with E-Safety.
Relationships

Living in the wider world

Health and Well-being

Year A

Be yourself

Aiming High

It's my Body

Safety First

Year B

TEAM

One World

It's my Body

Think Positive

Year C

VIP's

Diverse Britain

It's my Body
Additional units: Digital wellbeing – link in where we do E-Safety
Year 2 additional units: Money Matters and Growing up.
KS2 units
In KS2 these are the units to be covered over 2 years. There are separate units under each heading for LKS2 and UKS2 that build on the work covered in KS1. They cover the 3 core headings relationships, health and well being and living in the wider world as in KS1.
Year A

TEAM (Relationships)

Aiming High (Living in the wider world)

Safety First (Health and well being)

Digital well-being (Relationships)

Thinking Positive (Health and well being)

It's my Body

(Health and well being)

Growing up

(Health and well being)

Year B

VIP's (Relationships)

Be yourself (Relationships)

One world (Living in the wider world)

Money Matters (Living in the wider world)

Diverse Britain (Living in the wider world)

It's my Body (Health and well being)

Growing up (Health and well being)
The National Curriculum is fully in place at Newton Burgoland Primary School. Our adopted scheme of work "Twinkl Life's PSHE and Citizenship" is fully in line with the Learning Outcomes and Core Themes provided by the PSHE Association Programme of Study which is widely used by schools in England and is recommended and referred to by the DfE in all key documentation relating to PSHE provision in schools. This scheme of work covers all of the required objectives and follows the three core areas of Health and Wellbeing, Relationships and Living in the Wider World. The scheme of work fulfils the requirements of 2020 Statutory Relationships and Health Education, setting these learning intentions in the context of a broad and balanced PSHE curriculum.
At Newton Burgoland Primary School our PSHE lessons are creative, adopting approaches such as role play, discussion and playing games to explore the key areas. Key words are taught in each unit making sure that children build a rich vocabulary for PSHE and develop a good understanding. All of the units in the scheme of work are revisited and built on every 2 years creating a spiralling curriculum. This ensures that children build on what they have already learned, explore the underlying principles of PHSE regularly ensuring depth and are accessing content at an age appropriate level. We have decided that the "our bodies" and "growing up" units need to be covered every year to ensure that our program is meeting the needs of all children at the point of need.
parent consultation
think it is vital to normalise talking about these things to children, so that it isn't embarrassing, taboo or awkward. The fuss I hear every year when these classes start always stuns me - its not promoting sex, making them grown up too fast or inappropriate content, it is helping them feel comfortable to speak about it and ask questions and get the right information. I'm very confident this will all be delivered in an age appropriate way.

It my children ask anything I tell them - I never want anything to be a surprise or seems frightening! It is our job to help children be ready for this ever changing world, where they are expected to make very grown up decisions early - shielding these things from children is not helpful.'
Parent RSE survey response 2020
Impact
Our children know that Newton Burgoland Primary school is their school. They have strong sense of belonging and pride in there school community. They feel that their school is a safe place with trusted adults who will support them.
Personal development is strong and prepares pupils well for the next stage of education.
Governor monitoring, pupil surveys and feedback from visitors tell us how fantastic our pupils are.
'
Gripping yarns theatre visit- Anti-bullying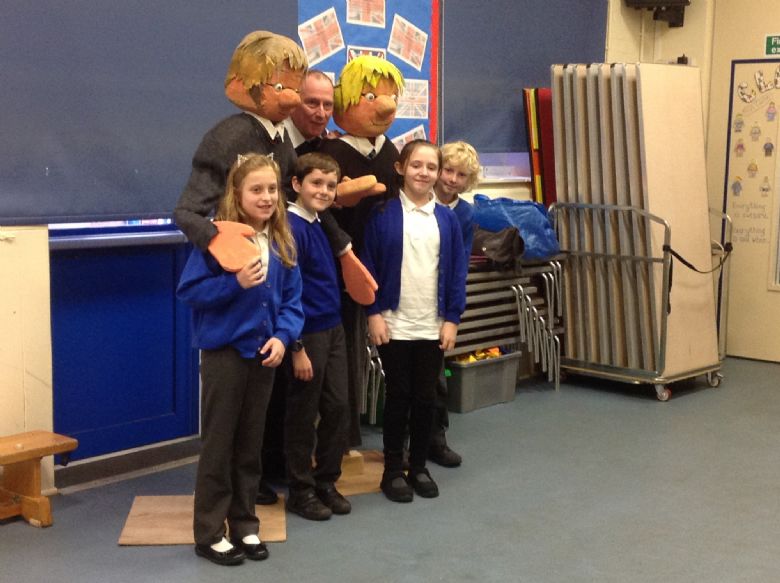 RSe Consultation
Dear Parents and Carers,
RELATIONSHIPS AND SEX EDUCATION CONSULTATION:
KEEPING YOUNG PEOPLE SAFE IN A MODERN WORLD
The Department for Education has announced changes to Relationships and Sex Education (RSE).
These changes will come into effect from September 2020 and all schools will be required to comply with the updated requirements.
This means that we'll be reviewing our RSE curriculum and policy so we can be sure our RSE provision is appropriate for our pupils based on their:
1. Age
2. Physical and emotional maturity
3. Religious and cultural backgrounds
4. Special educational needs and disabilities
We need your feedback to help us do this. We need to work together to prepare our learners to live in the modern world. Here's how you can help:
We're holding consultation meetings on Wednesday 11th March from 2.30 to 3pm and Tuesday 17th March from 9am to 9.30am. Please find attached the consolation document/ policy.
If you'd like to participate, please email admin@newburland.leics.sch.uk or call the school office on 01530 270320, before Friday 6th March.
Please note our definition and aims
• RSE is about the emotional, social and cultural development of pupils, and involves learning about relationships, growing up, choices, healthy lifestyles, diversity and personal identity.
• RSE involves a combination of sharing information, and exploring issues and values.
• RSE is not about the promotion of sexual activity. It is about keeping our children safe.
If you are unable to attend one of the meeting dates, or would prefer to respond online, please take a moment to look at our survey.
https://www.smartsurvey.co.uk/s/LK0UX/
Thank you for your time.

Yours Sincerely,
Sue Ward