Reading And the Curriculum
The curriculum at Newton Burgoland is rich, diverse and carefully sequenced to ensure that all learners leave Newton Burgoland with the knowledge, skills, values and attitudes they need to thrive at secondary school and, as adults in Modern Britain and our global society.
Together we have identified key drivers for our curriculum:
Reading
Character
Creating, reasoning and communicating
Following the closures of schools due to the pandemic, we have used our assessments and parent feedback to refine our curriculum offer, retaining our key drivers, for 2021- 23 to meet the needs of current pupils.
Our motto: Together We achieve Excellence is reflected in all aspects of school life - the high levels of respect and unconditional positive regard we show to each other. Everyone has a voice in our school community. Our learners are Noticeably Newton.
Our next step will be to further strengthen diversity within the curriculum.
For paper copies of curriculum information please contact the school.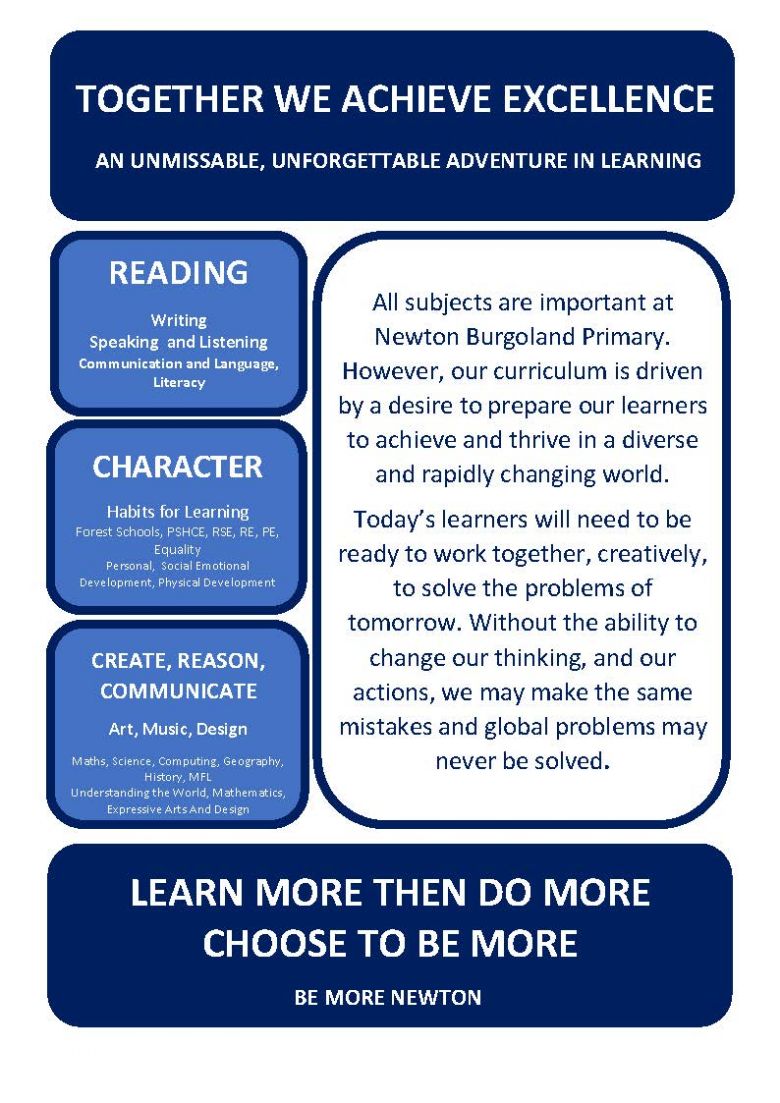 Impact - We will be successful when
When they leave Newton Burgoland Primary School our children will
Love reading:
They will read to learn and read for pleasure - the gift of reading is the greatest gift we can give our children. A book will take them places we can only dream of. A book will give them life choices. A book will provide comfort and joy.
Be responsible individuals, determined to achieve and make a positive difference for others
Our children will be courageous learners and caring friends. They will be ethical in their pursuit of excellence. Determined to contribute to a better world for all.
They will be confident and prepared to live healthy fulfilling lives.
Our learners will be the owners of their own destinies.
Be creative communicators able to connect with others and be the best versions of themselves
Our children will have the knowledge and cultural capital they need across subject domains
Our children will be equipped with the tools they need to be happy and fulfilled.
Please contact the school office or talk to your child's class teacher if you would like further curriculum information.
Year A: 2021/22 2023/24
Year B: 2022/23 2024/25
Class plans can be found here.
Further Information
Together we make learning
an unmissable,unforgettable adventure.
We follow the National Curriculum,responding to the needs of our learners, with a focus on engaging and challenging every pupil. Since our last inspection we have worked hard to develop our curriculum- it is an ongoing process as we respond to changing pupil needs and educational developments. We believe in the importance of knowing, exploring and sharing learning through precise communication; ensuring all of our pupils leave Newton Burgoland Primary School as successful learners; active members of their community and fully prepared for life's challenges. All of our lessons include an emphasis on the development of knowledge and of core skills for life:
Reading
Character
Creating, Reasoning and Communicating
We are determined that learners not only gain cultural capital but also embodied and objectified capital so that they are fully prepared to achieve in life. We are determined that no child misses out socially or educationally for any reason.
Learning is organised into themes and units with connections between subjects, when appropriate, and when those connections support learning. Trips and visits enhance our curriculum, enriching and cementing learning for all.
Learning outside the classroom, including forest schools is an essential part of our curriculum- supporting pupils' well-being and mental health.
Use the links to find out about each subject. if you would like any further information please attend one of our open afternoons or morning to share pupils learning journeys or speak to your child's class teacher.